What our clients say about us
Logic Financial Consultants are proud to have established a wonderful reputation for quality financial advice. Here are just a few of the many testimonials we have received.
I contacted Ian Whitby of Logic at a time in my financial life when I most needed secure professional help. What I did not expect though was the friendliness, monthly home visits, attention to detail, pure professional advice and their knowledge of world markets with which Logic have placed my investment in what I feel is the very best available.
I have been helped by other financial advisors in the past... and they were very good but I have to say that Logic are the very best.
My wife and I consider ourselves very lucky to have met Ian, George and Joe, the quality of their service to clients goes way beyond anything that anyone would expect.
P.W
Having decided to retire early, I spoke with my accountant about my current financial situation. As this was not his field of expertise, he suggested that I contact Logical Financial Consultants. I made an initial phone call to Ian Whitby, explained what I was attempting to do. He was very helpful and gave me some initial advice, followed up by and email with information regarding his company etc. This was further followed up by a call with Ian checking I had received all the information they had sent. During the initial call and the subsequent calls all advice given was without obligation and I felt under no pressure, which was unusual but refreshing. My initial impressions were very positive and I liked the idea of a family run business.
The service provided has been second to none. Ian, George and Joe, have been very approachable, extremely knowledgeable and always willing to go the extra mile. They have more than met my expectations, despite having some tight deadlines to meet in order to achieve my ultimate goal. If they say they will update you at the end of the week, that's exactly what happened. My Financial Advisor in the U.K. told me what I was trying to achieve was impossible, but Logic made it happen. I would not hesitate to recommend this company to my family or friends, my experience has been nothing but very positive. The very personal approach from Logic, made me feel that my investment could not have been in safer hands.
L.J.B
We moved to Lanzarote at the beginning of 2017 and soon realised that there were a number of issues that we would have to address from the point of view of our long term finances. It also became obvious that this was a job for the professionals and we count ourselves very fortunate to have picked the phone up to Logic. We were immediately struck by their depth of knowledge of how things work both in the UK and in Spain. We were able to meet Ian Whitby (and latterly George) face to face and we have been very impressed with their professional and friendly outlook.
What stood out to us is that they included both of us in their advice and the decision making process unlike some advisers who will only address the man. They can readily identify what will work and what won´t according to your circumstances. One of our best day´s work since we left the UK.
M.H.J & A.M.J
Having spent nearly 20 years in the Financial Industry as a Planner/Advisor now thankfully retired. It is great to have found somebody I can trust implicitly.
There is a saying in the industry that you don't buy the product but the person.
Ian has been fantastic over the 2 1/2 years we have known him. He has tailored our investments to our exact needs with no pressure, which is refreshing.
M.W. & R.W
My wife and I have known and been advised by Ian for the past several years. Apart from a professional and attentive service his advice has always been founded on solid market information backed with easily understood details given during regular investor meetings.
A feature of his service has been dependability, you get what is promised and given the vagaries of recent markets, dependability and solid performance is refreshing.
We have pleasure in recommending Ian and LOGIC to any current or prospective investor.
Regards - M.B.E & A.E
We engaged Ian to advise us on our private pensions which he transferred into QROPS. At all stages of this process he answered to our complete satisfaction all our (sometimes searching) questions with patience, consulting with specialists when necessary.
We were particularly impressed with the care taken over our investments, and these are being reviewed on a regular basis. We are kept fully informed.
His approach is entirely professional and always in good humour.
All appointments are kept and are punctual.
We recommend unreservedly his services to others.
L.A.G. and A.M.G
We have dealt with Ian as our financial advisor for several years now, and right from the start, Ian managed to match our requirements to financial products that gave us both income and growth - whilst at the same time-reducing our tax liability to next to nothing.
Ian is pleasant to deal with, he's straightforward, and follows up things that need doing.
We have no reservations in recommending Ian to potential new clients, and indeed we have recommended Ian to several of our friends.
C.H & G.H
---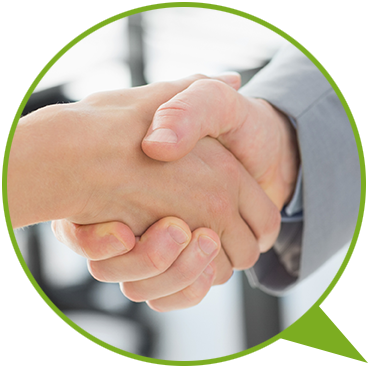 Referrals
We are extremely proud to say that the vast majority of our clients are referred to us either from existing satisfied customers or through our network of tried and trusted professionals. This reflects our ability to gain the trust of our existing clients and our professional connections alike.
PROFESSIONAL CONNECTIONS